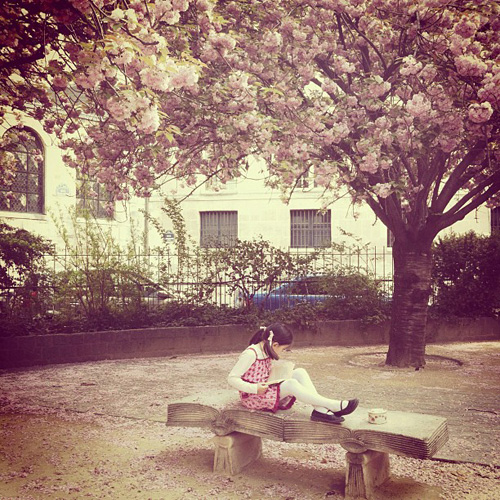 instagram photo by sweet Caroline
"My little reader… I first saw this park on a page of Pia Jane Bijkerk's, My Heart Wanders. The pink flowers, the book benches… I showed it to Clara and we dreamt of finding it, like a secret garden. With a little help from google and my bike riding parisian super boyfriend, we found it… And at the most perfect time, when there were still flowers on the trees, and petals on the ground like pink snow. "oh Maman, c'est le jardin du beau livre!"…."
"oh mom, it is the garden in that beautiful book!"
Finding this little story and image made my heart soar. Thank you sweet Caroline & Clara.
xx
PS Caroline has a fabulous blog with incredible images, one to add to your regular reading for sure.
Related Posts :
my heart wanders on instagram...
My Heart Wanders: chapter openers...
exciting news: My Heart Wanders coming...
a great way to start the week...
I am here, but not "here"...
My Heart Wanders: breathers...