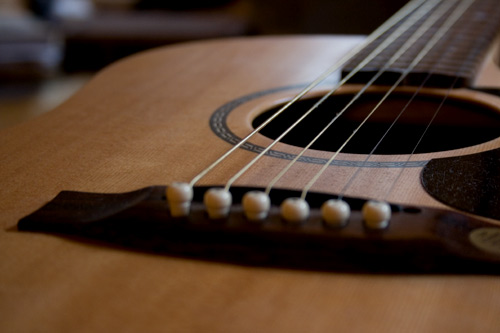 Some of you may have noticed that a few months ago I added a little sparkly widget at the bottom of my (blog)house sidebar, with the words "guitar" "tone"  "overload".  And then some of you may have then thought, "wtf?" because you would know that my blog has nothing to do with guitars, or tones… although there is plenty of overload to be had.
Well, now I have a moment to tell you all about it! At the beginning of this year, my partner Romain – who you've all come to know here as french boy – launched his very own blog. It's called, obviously,  guitar tone overload and it focuses on his "endless quest for The Guitar Tone" using effects, amps, and all sorts of other guitar equipment (that I have no idea about but he knows lots about). Last year when he first told me he wanted to start a blog, I asked him, "if you start a blog, what are your expectations?" and he said , "as a musician,  I've taken so much information from the internet over the last 15 years that now I'd like to give back".  I thought that was pretty much the perfect answer…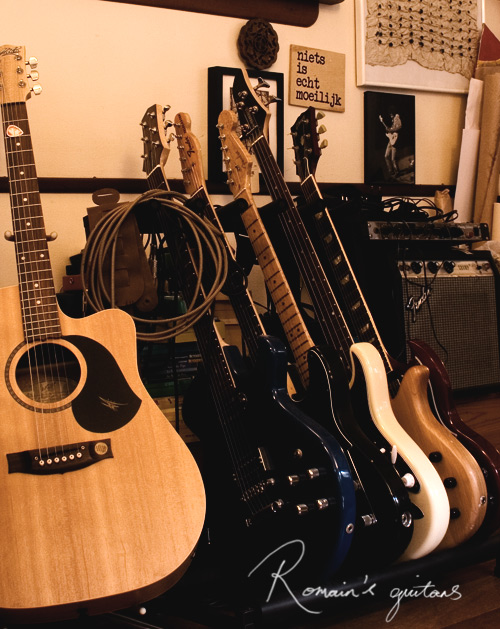 this is a corner of our houseboat, filled with guitars and guitar stuff.
So at the end of February he launched his blog in both English and French. I love that he focuses on boutique equipment (that being, pedals and such that are made in small factories or by hand) and that he explores the guitar tones of various famous guitarists  – so far he's featured Robert Smith from The Cure, Jeff Beck, Joe Satriani and just last week, John Butler. He not only writes about what each guitarist uses, but he also makes demo videos to show his readers how to get 'the tone' with certain equipment. It's pretty clever stuff.
While researching for guitar tone overload the other day, Romain came across a video of legendary guitarist David Gilmour's houseboat/music studio located on the Thames.  It is the most awesome floating musical space, and I just wanted to share it here, for those of you out there who love the idea of houseboat living, and those who love making music like we do. It is a clip from the BBC series three men in a boat, check it out…
Can you imagine? So very cool. For us, this would be the ultimate houseboat. Our little houseboat doesn't have nearly as much music gear as David Gilmour's, but it still manages to rock out when the mood strikes.
Anyway, I just wanted to say a big congratulations to french boy for getting out there in the blogosphere and creating such a great space for guitarists. Please pass on his blog to your guitarist friends. Merci!
xx