Yey!
Finally it's really turning into spring over here in Amsterdam!
So maybe I'm too enthusiastic, but I immediately want to eat yummy salads. At our restaurant we just put our version of Fattoush on the menu. I have no picture of that salad yet, but when I do have one, I'll make sure you will all get the recipe, because it's my favorite salad at this moment.
This one was my favorite one before that and its the simplest salad ever: the ingredients do the trick for you. Your only job is is to arrange them well on a plate. If you have to win someone over, fix this salad and I'm sure you'll get what you want!
We shot this picture for Maria last year and it is still one of my personal favorites. Pia, our hostess with the mostess, was in charge of the styling of course and Jeroen van de Spek took the picture (click here to see all the pics from the shoot).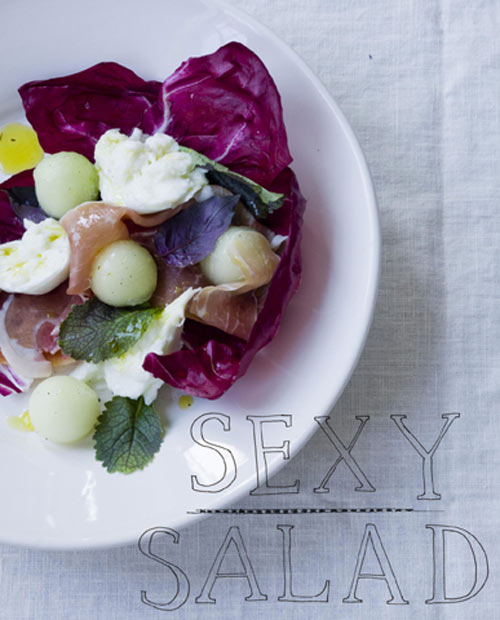 Sexy Summer Salad
1 melon: Cavaillon melon, Galia etc.
for the syrup:
0.5 liters of white wine
100 grams sugar
4 star anise
the seeds from 1 vanilla pod (keep the pod too)
the peel of 1 lemon
Rosemary Oil:
The leaves of 3 twigs of rosemary
150 ml light olive oil
juice of half a lemon
pepper and salt
for the salad:
1 head of raddichio
4 sprigs of red or green basil
8 thin slices of Parma ham
2 buffalo mozzarella cheeses
50 grams of beautiful young salad leaves: mizuna, rocket, mustard leaf
Use a melon scoop to create nice little melon-balls. Spread them out on a deep plate.
Heat the white wine in a saucepan and add the sugar, spices and the lemon-peel. Simmer for 20 minutes on very low heat. Pour over the melon. Let completely cool down.
Make the rosemary oil: Whizz the rosemary with the lemon juice in a food processor. Pour in all the olive oil, while whizzing, taste the dressing for salt and pepper.
Arrange the radicchio leaves on four plates. Tear the mozzarella into small pieces and divide them together with with the Parma-ham, melon balls and the young leaves over the plates. Drop some syrup over it. Sprinkle with torn Basilicum and finish off with the rosemary oil, serve immediately with crisp bread.
You can also conserve the melon in this syrup. Pour this 2 x this quantity of syrup over the balls of at least 2 melons in a clean pot (2 liters) and cook it in boiling water for about 10 min.
It will keep for about a month!
Enjoy!
love Yvette x