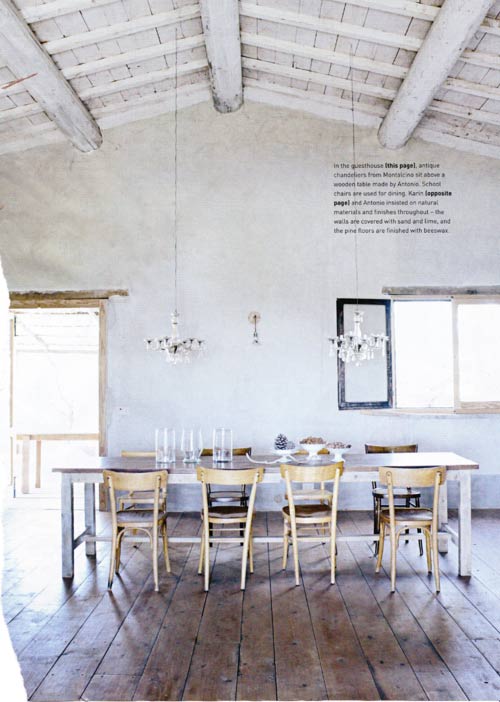 i love this mag! inside out is most definitely in my top 5 absolute favourite interior magazines, for so many reasons. I shall attempt to list as many as possible here for you now:
it features homes of REAL people – artists, shop owners, farmers, and sure there is the odd celebrity but they're real celebrities – you know, the ones that feel like they could be your neighbours, or that you went to school with (ok I did grow up on the northern beaches of sydney after all, home to many an aussie socialite).
the layout is STUNNING. and unique! it never fails to be beautiful throughout every single issue.
it is filled with fabulous ideas for your own nest – there is always a great range of stockists to peruse, including plenty of web shops and suppliers from all over the world – the style team reach far and wide to find interesting homewares across the globe.
it is a really creative magazine – always pushing the style boundaries to the very edge, but never going over it. They have crafty ideas here and there that aren't too difficult but are super stylish and sophisticated.
… how is that to start with?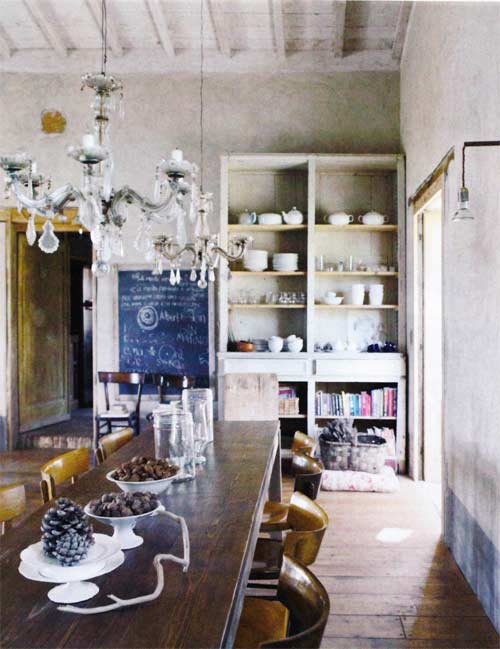 many of you have revealed to me in the last few days that you are looking for a magazine to 'replace' domino (although it can never be replaced! but there is a hole in out nesting hearts, i know). Well, may I suggest inside out for you: It's by no means the same, but for me it really fits the hole rather snuggly and you might find it will too.
Yes the magazine is based in Australia, but why would that stop you?
Australia is filled with talent, and alot of it is packaged neatly in inside out! And like I said, the style team reach far and wide so it's not all about Australian homes. In fact, the story I have decided to feature is set in Tuscany, Italy. A couple decided to pack up their corporate lives and renovate a 12th-century farmhouse, just an hours drive from Florence. I think many of us dream of doing this, and I think this couple did it so perfectly, filling their home with found objects and insisting on natural materials and finishes throughout. The walls are coated in sand and lime while the pine floors are finished al-natural with beeswax. The spaces are real, authentic, and full of life. I adore the pop of colour throughout – the use of red and blue hint at (the owner)Karin's Dutch heritage.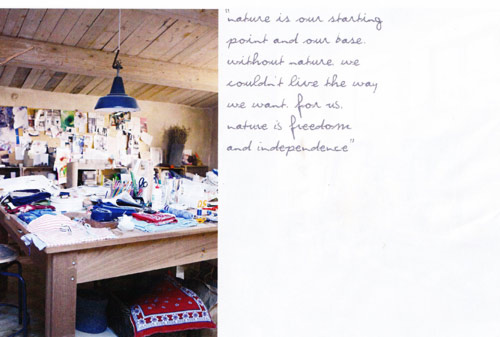 The vegetable and herb garden is organic, and even the lake! which is called a biolago – a naturally filtered lake especially for swimming.
I'll leave you in peace and let you take a wander through some of the spaces now…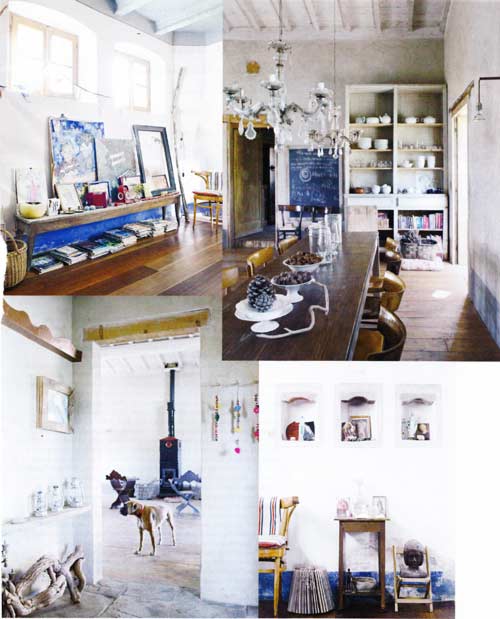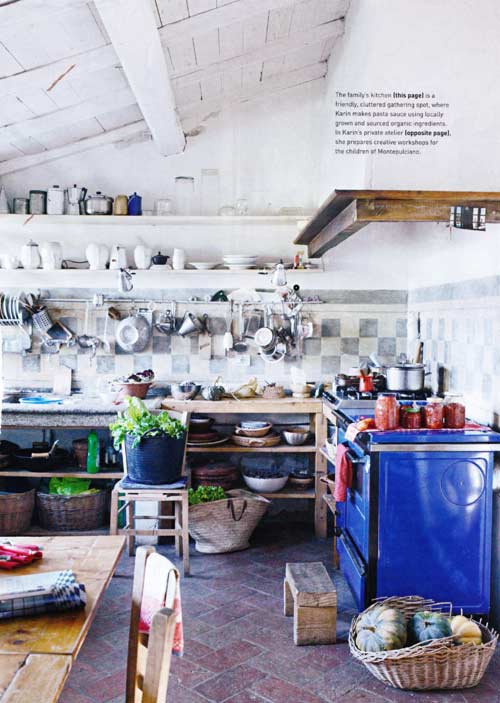 All the photographs for this article are by Mark Seelen, with words, styling and production by Marc Heldens.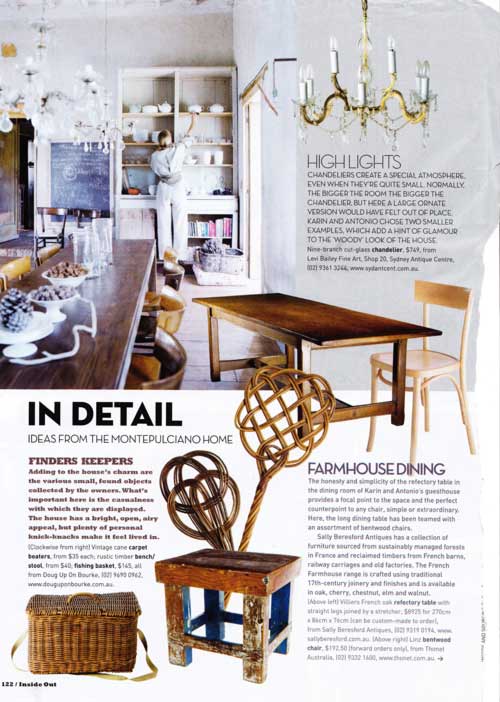 At the end of each home story inside out create a section called "in detail" (as above) to show where you can buy similar items, or items inspired by the home decor. Many magazines do this, and it is one of my favourite features of this particular magazine, as well as marie claire maison.
So, what else can I tell you that's fab about inside out ?
Well, how about the fact that they just started their own blog! so welcome to the blogosphere inside out. also, their latest issue looks awesome – just read the editor's letter here, and check out what's inside here.
but most of all, what I am dying to share with you is this: if you subscribe to inside out right now, you can go in the draw to win a luxury holiday trip to PARIS…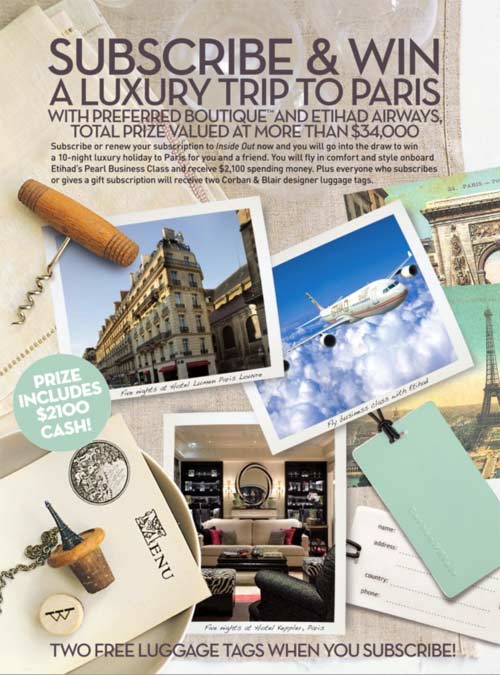 How unreal is that? I only just read about it myself on their website, and I thought I just have to tell you! Click here to read all the fabulous details (like business class tickets + spending money), and here to read the terms and conditions, and here to subscribe!
Ok, I must eat now, it's dinner time. But I do hope you consider subscribing to this beautiful magazine.
xx
PS again, I think I should be in sales! and again, I am not employed by inside out in case you thought my sales pitch was that good. I've never worked for them actually, boo hoo!! perhaps one day when i'm not so far away.
PPS one more thing – if you love this farmhouse as much as I do I have something to tell you… you can stay there!! Here is the link, filled with more beautiful photos, maps and information. Enjoy.