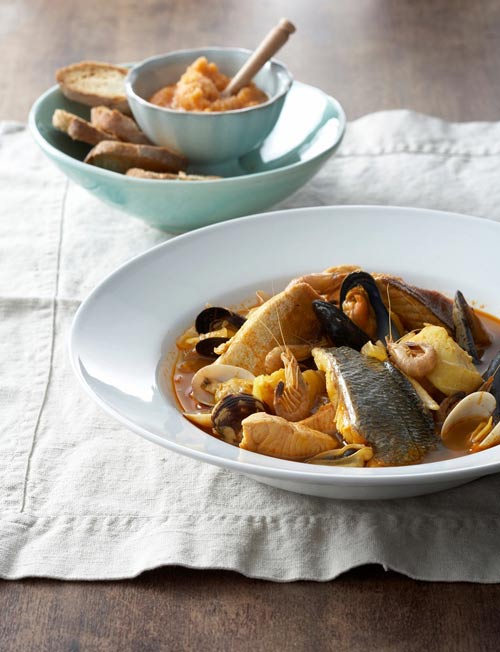 Hi there! How about starting off with one of my favorite soups? This one is particularly good because you can fix it in about 20 mins, so no hard work. I wrote it for elle eten last year for a story about all time favorites and the quick version of the traditional recipe.
It was shot by Saskia van Osnabrugge . And the styling was done by Annemieke Paarlberg.
I love this picture, I actually get hungry looking at it.
Enjoy!
Quick Bouillabaisse
Preparation time : ±20 minutes
Serves 4
For the soup:
3 tbsp olive oil
1 onion, chopped
2 cloves of garlic, chopped
1 fennel bulb, thinly sliced
1 small can of tomato purée
1 pinch of saffron
100 ml Pernod or brandy
1 litre fish broth
1 kg fish: whitebait, red snapper, red mullet or goatfish, salmon, dorade, for example, all filleted
a big hand of fresh mussels, vongole and shrimps: ask your fishmonger for a mix!
> Some chopped flatleaf parsley to garnish
For the Rouille / croutons:
1 big piece of stale bread
2 cloves of garlic
4 tbsp mayonnaise (preferably homemade)
2 teaspoons harissa or else 1 tbsp ketchup and a sniff chilli powder
150 grams of Gruyere cheese
and some extra oil for greasing
Fry the onion briefly with the garlic and the fennel in the olive oil until the onion turns transparent. Stir in the tomato purée and saffron. Keep stir-ring until the tomato starts to smell sweet. Pour in the Pernod or brandy and stir well, pour the fish broth in after that and let it cook softly for about 20 minutes. 5 minutes before the end add the fish, roughly cut into pieces of about the same size. Let them cook gently for another few minutes.
Make meanwhile make the rouille and the croutons. Preheat the oven at 180 de-grees.
Cut the stale bread into slices and spread them onto a greased baking sheet. Bake the croutons in 5-6 minutes golden brown. Turn them halfway through.
After that, grind in your food processor: about 6 croutons, the garlic, the mayonnaise and the harissa into a creamy sauce.
First scoop the fish from the soup and divide them over in 4 deep plates and then pour the soup over it. Serve with the rouille, croutons and the grated Gruyere cheese. Bon appétit!