It's a rainy Friday night. Everyone is tucked up in their homes here in Amsterdam reading each other poems, opening gifts, and munching on handfuls of pepernoten. Why, you might ask? It's sinterklaas here in The Netherlands. And this is (apparently) what they do today! For some reason this was a tradition that did not travel with my oma & opa when they moved to Australia. Although the best part of the tradition, in my opinion, did – each year my great grandmother came to visit us in Australia and brought each of her great grandchildren a large chocolate letter – the letter being the first letter of one's name. So, every year I delightfully received a chocolate "P" and boy, did I love that tradition!! I still uphold it – just the other day I bought myself an organic chocolate "P".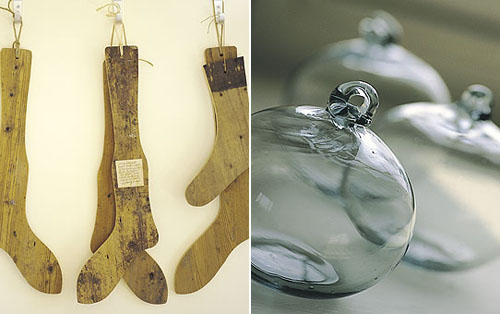 Hmm after that little story, I'm ready to start decorating the (blog)house and the (blog)tree! Are you with me? First up are those gorgeous recycled wood sock and stocking forms from Baileys (£18 and £24 each), and recycled glass baubles (£6.50), also from Baileys. So beautiful.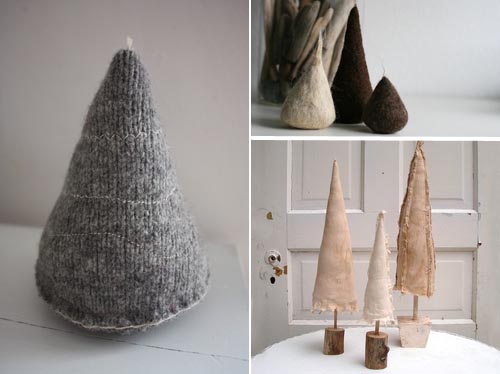 Clockwise from left:
1. little woollen trees made by little love blue. part of a set of 3 for $38. NY
2. felted christmas trees from reya veltman. so so cute. set of 3 for $45. The Netherlands.
3. country day trees from middelburg folk art studio. I love the texture of these! Imagine a row of them along a sideboard, so lovely. Set of 3 for $67. St. Charles(where is that exactly?)

I'm in love with these 1930's deer decorations. A little battered and bruised (some have a limb missing), but just as lovable. callooh callay set of four, $17…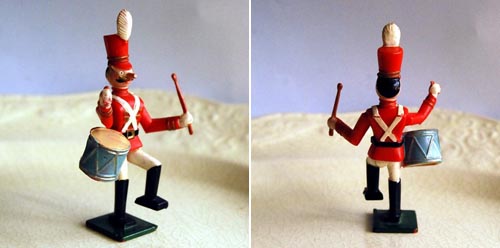 …and these toy soldiers from the '60s, $22, also from callooh callay.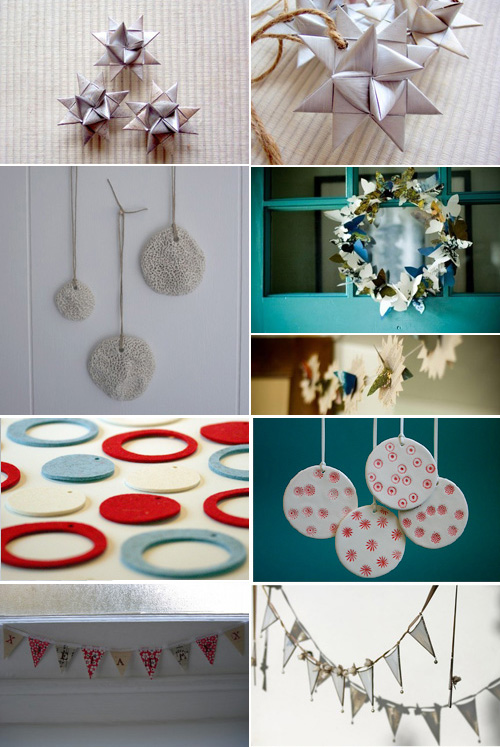 Clockwise from top left:
1 & 2. folded painted stars from sew danish 6.50 each.
3 & 4. royal buffet's paper butterfly wreaths and garlands are to die for! check out what's in store today (items are selling fast so if you see something you like, grab it tout de suite!)
5. paperboat press (aka the lovely kylie johnson) have a fabulous collection of handmade holiday ornaments, and these ceramic christmassy circles are just part of it! AUS$12.95 each, available online through biome.
6. This winter white rose garland is so pretty. It's from pamela angus. $69. France.
7. how dainty is this little garland from lobster and swan? I think it's sold, but it is lovely inspiration for holiday decorating none-the-less.
8. I think these German wool felt ornaments would look equally great on a traditional tree as well as a white one or even a branch. Or strung along on a ribbon as a garland. They come from filz felt. set of 4, $20. Boston.
9. kim westad's coral pendant's look great as hanging ornaments – how fabulous for a tree by the sea. $22 each. NYC
I'm off to bed now. But I'll be back on the weekend with some holiday art and finishing up the enhance the everyday holiday guide with an awesome gift wrap selection on Monday! But before I go, I have a little treat for you: The lovely danielle from room service cleveland has so sweetly sent me this special gift for each and every one of you…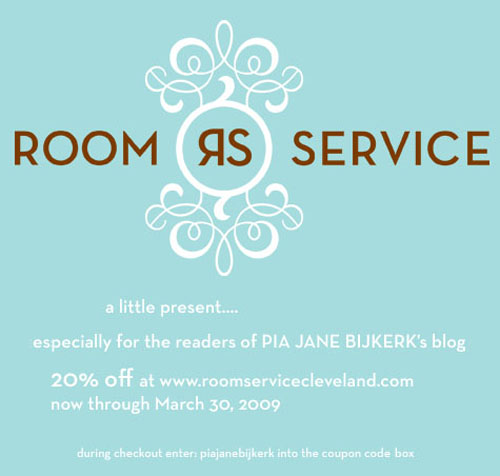 …thank you danielle! click here to be whisked away to danielle's boutique, and don't forget to enter "piajanebijkerk" in the coupon code box at checkout.
xx